The Dark world (まかい, makai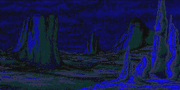 ), also known as the Spirit world, Vecanti or Vakanty, is one of the three worlds from the
Valis series
and mostly the last one visited in all the games from the series.
Description
Edit
The Dark world is, as It namesake implies, the most obscure, dreadful and hostile world from the three ones in the series. It's inhabited by grotesque creatures and human-beast hybrids that organize as tribes to fight against those creatures in order to survive. Although this, some areas of this world are technoligized territory with many of the hybrids living there. Those areas are mostly under the government of the main antagonist from the series and serve as their base, being also originaries of the Dark world.
Destruction
Edit
The Dark world met Its end during the events of Valis III, when the Void started to absorb It. As this happened, King Glames tried to uselessly fight against the Void and the destiny the Gods assigned to the Dark world by trying to take over the Dream world and the Human world, but he failed proving his power and died, thus the survivors of the Dark world were finally migrated to the Dream world by Yuuko, Valna and Cham.
Known Locations
Edit
Vecanti's entrance/ Vecanti's outlands
Volsedom

Underground area
Magma area
Mountain area
Ruins area
Vorg's valley
West Volsedom
Dark forest
Rogles's castle

Megas's domains

Megas's lands
Megas's castle
Megas's hideout

Cementery area
Dessert area
Machinery area
Iceland
Glames's castle
Known inhabitants
Edit
Ad blocker interference detected!
Wikia is a free-to-use site that makes money from advertising. We have a modified experience for viewers using ad blockers

Wikia is not accessible if you've made further modifications. Remove the custom ad blocker rule(s) and the page will load as expected.